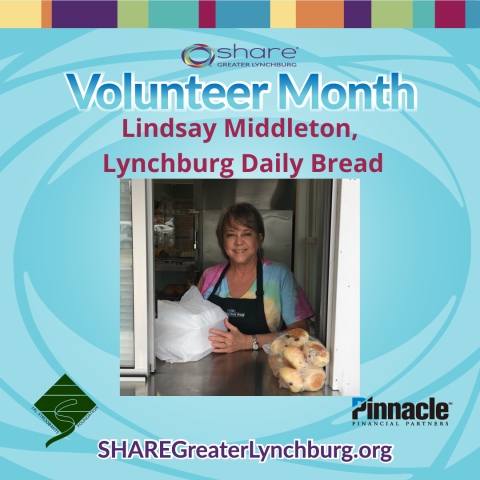 Written by Alyssa Wilson, University of Lynchburg Bonner Intern 
National Volunteer Month is coming to a close and SHARE Greater Lynchburg is happy that so many volunteers have received the love and recognition they deserve. 
During the last week of the month, we wanted to share some final highlights that organizations have shared about their outstanding volunteers!
SHARE Greater Lynchburg is partnered with many organizations in the area, one of which is the Junior League of Lynchburg, where Hope Moffa has been serving for the past six years. 
President Maegan Fallen says, "In addition to overseeing many committees and functions of the League in her role as executive VP she still volunteers at basically every opportunity we have - many times bringing her entire family and modeling community service to her young children and sometimes serving alone just to make sure everything is covered."
Lucy Hathaway received much love from Lynchburg Humane Society, where she is very involved with both the human and animal side of the organization. 
Events and Communications Manager Claire Lefew says, "Lucy is an amazing volunteer. She brings her passion and dedication into everything she does. Not only does she help care for the cats at Petco, she checks in with us on how they're doing and makes sure everything is well stocked. She also found a way to bring her expertise in teaching exercise classes to help pets by teaching yoga and pilates classes with adoptable cats!" 
Beacon of Hope recently held their HOPEx event, a TEDx style event with speakers that was held at the Academy Center of the Arts. Two key players in making this event happen were Heather Zippel and Angie Campbell. 
Laura Hamilton from Beacon of Hope says, "Heather and Angie were incredibly creative, organized and passionate about making a complicated, first-time event – HOPEx – a tremendous success. They were instrumental in creating a memorable 10 year anniversary celebration for Beacon of Hope. They kept us on-task, under budget and nimble in our marketing and advertising strategies." 
Lynchburg Daily Bread plays a huge role in helping fight food insecurity in the greater Lynchburg area. This would not be possible without volunteers like Lindsay Middleton. 
Community Engagement Leader Sheila Wallis says, "Lindsay performs her volunteer duties with skill, experience, efficiency, timeliness, dedication and initiative. Lindsay's light-heartedness, compassion and great service has earned her the name of "The G.O.A.T" among her fellow volunteers around here. The GREATEST OF ALL TIME! Need I say more?!" 
At the end of this month of recognition we once again want to thank volunteers for all that they do in our community. The greater Lynchburg area would not be the same without our outstanding volunteers.