Stories
Some call it stories. Others call it a blog. But here you will find nuggets of goodness to use and -- you guessed it -- SHARE!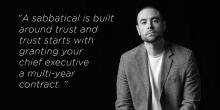 A sabbatical is built around trust, and trust starts with granting your chief executive a multi-year contract. 
The first question I am going to ask our readers: if you are a nonprofit executive, do you have a multi-year employment contract? Not just an employment agreement, but a multi-year contract? 
The next question I will ask is this: if you are a board member of a nonprofit, why are you not providing your executive with a multi-year contract? If you are an executive, why aren't you asking for one?
I am going on a sabbatical. 

Yes, I am fine and no, it's not a vacation. 
I have always been an anxious person. Sometimes, anxiety is a superpower. Sometimes, it is a disability.