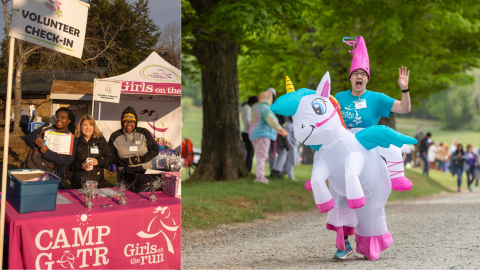 Written by Alyssa Wilson, University of Lynchburg Bonner Intern 
When Gwenn Cheatwood's third grade daughter expressed interest in joining her school's Girls on the Run program, she jumped at the opportunity to become a volunteer coach. She kept coming back, season after season. Even after Cheatwood's daughter aged out of the program, her passion for Girls on the Run continued to grow. 
Girls on the Run of Central Virginia and the Blue Ridge uses a 10 week curriculum to teach young girls about confidence, competence, and character, and to show them how powerful they are. During the 10 weeks they also train to run a 5K. At the end of the 10 weeks, the girls are able to cross the finish line and also gain confidence in themselves throughout the process. 
"Girls on the Run has always been soul-filling for me as a volunteer," says Cheatwood. Her daughter is now a college senior, and since being introduced to Girls on the Run she has gone from volunteer coach to Director of Development.
Girls on the Run of Central Virginia and  Blue Ridge has two seasons: a fall season that starts the day after Labor Day, and a spring season. The organization is currently getting ready for their spring 5K, and starting the hunt for more volunteer coaches. "The need for coaches is great. If we have coaches, the girls will come."
An average group consists of 15 girls and they must have a minimum of two coaches. However, it is ideal to have more than two coaches so that all girls feel a sense of connection and belonging within their group. 
Volunteer coaches must be able to dedicate four to five hours per week for 10 weeks leading up to the 5K. Volunteers must be 18 or older, pass a background check, finish mandatory training and most importantly have the desire to enrich the lives of young girls in the community. 
One such volunteer coach, Emily, has been with Girls on the Run for eight seasons. Although she only participates as a coach during the fall season, Emily keeps coming back to volunteer at the spring 5K. "She and her family are moving out of the area at the end of this school year and I cannot begin to tell you how much we will miss her," says Cheatwood. 
Although an increase in volunteer coaches is needed for the fall season, Girls on the Run's biggest need is volunteers to help put on the spring 5K. The day after a season starts, 5K preparation also begins.
"It's an extraordinary thing to see these girls that have been training for 10 weeks to run a 5K, cross that finish line," says Cheatwood. 
Students have been a large part of the volunteer base in years past. Alpha Sigma Alpha, a sorority at the University of Lynchburg, comes out every year to help stuff close to 500 race bags. Volunteers are needed in every part of the process from unloading and loading trucks to folding t-shirts. 
"We teach the girls that we are all a part of different communities, and everyone within those communities are needed to help things run smoothly. It's important for our local communities to support us, but it's more than that. You're investing in the future of the girls in the program. I've seen how that investment pays off and it's amazing," says Cheatwood. 
By community members volunteering to take part in putting on the 5K, it further pushes the importance and message of the community that the girls are taught over the 10 week season. 
The organization teaches girls to love themselves through different activities and exercises, affirming themselves and the things they love about themselves. 
Girls learn to embrace the unique, authentic parts of themselves with the help of their volunteer coaches. Cheatwood says, "As a community, we invite you to be a part of something special, it's an exceptional feeling to get out there and help the community in whatever way you can." 
Volunteers like mother - daughter duo, Kathy and Celeste are integral to a successful 5K. They have been coming back to help out for approximately six seasons now. "Not only can I count on them to do an excellent job at Volunteer Check-in, their cheerfulness, humor and sunny dispositions completely make my day," says Cheatwood. 
The mission at Girls on the Run is to inspire girls to be joyful, healthy and confident using a fun, experience-based curriculum which creatively integrates running.  We envision a world where every girl knows and activates her limitless potential and is free to boldly pursue her dreams.
In order to make this mission come to life, the organization needs volunteers in every aspect. The opportunity to volunteer with Girls on the Run is one with an immense impact on both the volunteer and girls in the program.
To learn more about Girls on the Run and volunteer opportunities visit their SHARE Greater Lynchburg profile.