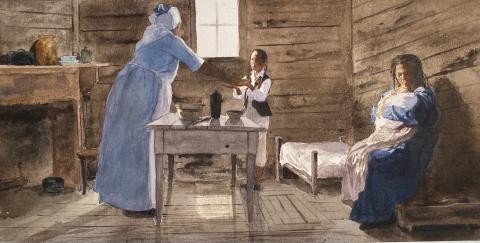 By: Alyssa Wilson ~ University of Lynchburg Bonner Intern 

Thomas Jefferson inherited the Poplar Forest plantation through his wife's father, John Wayles. During his second term as president, Jefferson designed and directed the construction of an intimate retreat on the property, which he used as a getaway from his hectic life at Monticello, located up the road in Charlottesville.
 
Given its location in the Piedmont and due to the availability of water across the property, Poplar Forest also provided Jefferson with an important source of income, through the cultivation of tobacco and later, wheat.
 
In recent years, Poplar Forest has made much progress with regard to restoration of the surviving Jefferson-era buildings and portions of the designed landscape. The Corporation for Jefferson's Poplar Forest is also committed to bringing forth the many contributions of the enslaved individuals who lived and worked at Poplar Forest, through expanded interpretation, and future restoration efforts of slave dwellings.
 
Every May, the organization hosts a trilogy of plays that is written by Lynchburg playwright, Teresa Harris, called 'The Day Is Past and Gone'. Harris bases the vignettes on actual events that happened within the enslaved community on the property, with research and support from Poplar Forest's Department of Archaeology and Landscapes. These vignettes are then performed on the property for the public.
 
Earlier this year, Poplar Forest's professional archaeologists and a team of field school students, discovered a possible slave quarter site along the east side of the property. Right now, there is limited interpretation at the site, and additional research and excavations will be necessary to provide a comprehensive understanding of the area.
 
Additional efforts are underway to share more of Poplar Forest's research on the enslaved community and their daily lives at Poplar Forest.

"We have worked with a Caldecott Medal-winning artist named E.B. Lewis who has come on site and created this beautiful hand painted, watercolor artwork that better showcases what life might have been like down at the site," said Mary Massie, Director of Programs and Education.
 
Interpretive signage will point visitors toward the partially reconstructed Quarter Site and will depict names of the enslaved people recorded in Jefferson's Farm Book. In addition to the watercolor images and well-researched text, visitors will have the opportunity to see and touch 3D printed artifacts.
 
Massie said, "They'll depict things like community, showing everybody kind of out in the yard getting work done. One called 'Sunday Dinner' will focus on cooking, another is called 'The Day is Past and Gone' which focuses on funeral practices."
 
There will be a public Grand Opening on Oct. 29 to celebrate the new Quarter Site exhibit. Artist E.B Lewis will lead an art workshop for young kids, along with special talks and other events.
 
"I'm hoping it's going to be a big day and celebration of the enslaved community and remembering all of their sacrifices and hard work on the property," Massie said.
 
Poplar Forest's Archaeology Open House tours will be held On Oct. 7 and 8. These special tours allow visitors to learn more about the decades of work carried out by Poplar Forest's professional archaeologists to learn more about the enslaved community and the plantation landscape, as well as the ornamental/designed landscape.
 
Thomas Jefferson's Poplar Forest has many seasonal events coming up including their Harvest Wine Dinner, annual Thomas Jefferson Wine Festival, Wine Dinners and Candlelight Tours.
 
Look for more information on their SHARE Greater Lynchburg profile here.