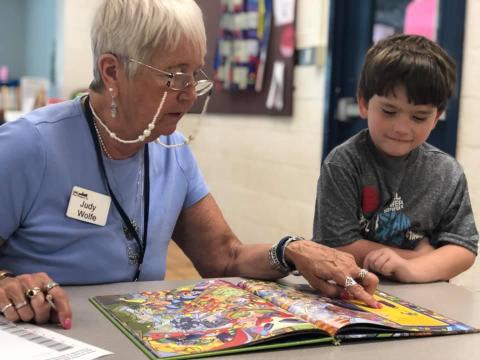 Written by Alyssa Wilson, University of Lynchburg Bonner Intern 
Nestled in the heart of Smith Mountain Lake sits a nonprofit organization by the name of SML Good Neighbors. Year-round, SML Good Neighbors serves the children in Franklin and Bedford counties by teaching them good neighbor skills and setting them up for success. 
One of the organization's summer goals is to prevent summer learning loss, also known as the 'summer slide.' 
SML Good Neighbors provides a summer enrichment day camp that runs four days a week for four weeks out of the summer and serves students in Franklin and Bedford counties. 
This program partners with the public school system and serves about 160 students at each camp where students learn nature education, global education, peaceful living, the arts and more. 
Their weekend bag program also goes hand-in-hand with the summer camp. "Every student in our program receives a weekend bag every week which has six meals for the weekend, as well as a brand new book that they get to keep," says Executive Director Lisa Lietz. 
Through pre and post-camp tests, it is being shown that about 90% of students are either maintaining or improving their reading levels over the summer. 
However, a lot of the organization's programming happens throughout the school year. For example, a student enrichment in the arts program where professional theater is brought into an afterschool space. 
Lietz says, "A new study came out recently about how participating in improvisation and theater is helping children with their social emotional growth and skills. There's so many benefits."
Last year, Good Neighbors started the Nancy Horton Scholarship which will be awarded to three students this year who are graduating high school. 
In order for students to receive the scholarship they must have participated with the organization at least once, whether it be through volunteering or being a part of the organization's programming. 
Prior to 2013, SML Good Neighbors was completely volunteer driven but now has a paid staff person. The summer camps have the biggest bulk of volunteer needs. 
To effectively and smoothly run summer programs Lietz says that they need about 100 or more volunteers to help with the reading buddy program and packing food bags. 
One of the events that helps to keep their mission going is the Good Neighbors Day Concert, which will be celebrating its 10th year on Friday, May 12, 6-9pm.
The idea for Good Neighbors Day came out of a brainstorming session where someone suggested the idea of a neighborhood party, where people come together and support the organization, almost like a block party. 
The goal of this day is to spread the values of Good Neighbors and show the values to people in the community. 
Judy Wolfe, an involved volunteer and board member at the organization, has been one of the key players in making the Good Neighbors Day Concert happen. Wolfe has been coordinating volunteers and arranging special events for the past 15 years and is passionate about the work that they do. 
The SML Boomer Band will be performing at the concert, taking place at SML Pavilion which connects to Good Neighbors' theme of community connection and working together. 
"They should come out because it's for a good cause. The work that Good Neighbors does is important and necessary, the students here benefit so greatly," says Lietz. 
Community members can purchase $25 tickets up until the day of the concert. Tickets can be purchased online, and in person at Mama Ann's Gifts and Goodies. 
To learn more about SML Good Neighbors visit their SHARE Greater Lynchburg profile.