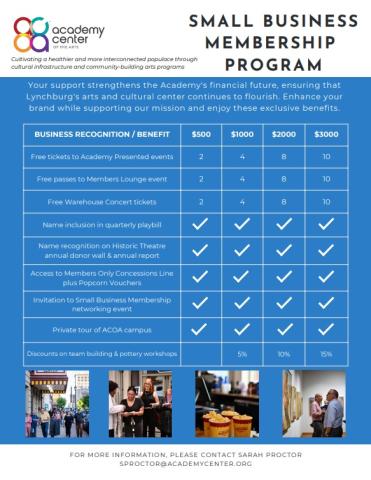 This past weekend, like many weekends before, the Academy Center of the Arts was bustling with various concerts, classes and gallery viewings for the whole community to enjoy. 
 
The Academy provides a wide range of arts programs at increasingly affordable prices, and some events and workshops are free to the public.
 
In order to bring high-quality theatre and musical productions, host workshops and classes, and create art exhibits, the Academy must earn financial support through membership and sponsorship programs. 
 
The Academy recently kicked off their small business membership program, which is also open to area nonprofits. 
 
There are four levels of membership for businesses or nonprofits to take part in: $500, $1,000, $2,000, and $3,000. 
 
Each membership benefits an organization by providing free tickets to Academy Presents and Warehouse Concert events, and passes to Members Lounge events; however, more tickets and passes are provided if the top tier membership is chosen. 
 
In addition to these performance opportunities, the membership also provides team building experiences through providing discounts on events like pottery workshops.
 
By becoming a member, businesses increase their name recognition as they will be acknowledged on the Historic Theatre annual donor wall, quarterly playbill, and annual report. 
 
"We're reaching out to folks who want to bring their employees and find ways to bring their clients to the Academy in some really cool, creative ways," says Sarah Proctor, Director of Stewardship at the Academy. 
 
Support the Academy and enhance your own organization's brand by learning more about the small business membership program and visit the Academy Center of the Arts SHARE Greater Lynchburg profile.