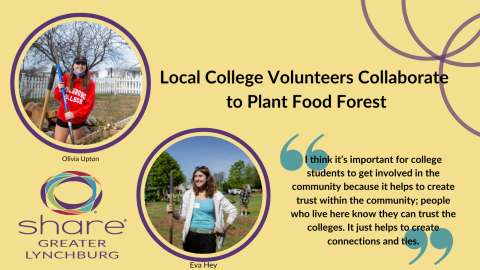 written by Alyssa Wilson, University of Lynchburg Bonner Intern 
As a senior environmental science major at Randolph College, Eva Hey decided that she wanted to make a difference in her community for her senior project. After studying a heat map to determine what areas are in the highest heat index, Hey settled on the neighborhood of her former elementary school, R.S. Payne Elementary. 
A heat map helps to determine where temperatures are the highest in any certain area. Oftentimes, a heat map shows bright red in areas with little plant life such as trees, bushes and shrubs. 
In addition to R.S. Payne Elementary School being in a high heat area, they are also located in a food desert. With this information in mind, Hey got to work on a volunteer project for school wherein she would implement a "Food Forest" at R.S. Payne. 
"Because I was a student there I know that students will use it and teachers will incorporate it into their classes," says Hey. 
The food forest, which includes blackberry and juneberry bushes, pear trees, apple trees and more, is not only an educational opportunity for students, but it is also highly accessible to those in the community. 
As the forest begins to grow and the trees and shrubs start to fruit, there will be opportunities for community members to volunteer to water the plants and keep them growing. The forest will be open harvest, meaning that anyone can come and harvest whatever they want, during school hours. 
The project and planting of the trees, which took place on April 19, included not only Randolph College, but also faculty and students from the University of Lynchburg. 
Students and faculty volunteered their time to give back to the community through their passion for environmental justice and sustainability. 
Olivia Upton, sophomore environmental studies student at the University of Lynchburg volunteered at the tree planting last Wednesday with a host of other community members. 
"Volunteering has been one way I've been able to connect with the community here in Lynchburg that has made this place feel like a second home," says Upton. "Although I'm only here for four years I'm really glad I have experiences and connections such as this to look back on." 
Through Hey's volunteer school project, she was able to make connections in the city that she otherwise would not have been able to make as well as build trust with the community. 
"I think it's important for college students to get involved in the community because it helps to create trust within the community; people who live here know they can trust the colleges. It just helps to create connections and ties," says Hey. 
Hey says that many organizations rely on college students being able to volunteer because, oftentimes, they are more available and flexible than people who work from 9 a.m. to 5 p.m. or high school students who are in school all day. 
"It benefits us as well, because you never know who you might meet in a volunteer setting that later may be hiring and then think of you," says Hey. 
While she was in the planning stages of the food forest, Hey volunteered with Pierce Street Community Garden, where she made connections with other volunteers and Pierce Street leaders whom she was able to share her project with. 
Upton continued, "As college students I think we forget how much influence and opportunity we have at this moment in our lives, and through service I've realized that I can go after the things I'm passionate about and make a real impact on our community." 
At SHARE Greater Lynchburg there are currently 108 volunteer opportunities for college students to get involved in and give back to the community that they are a part of. 
Volunteer at R.S. Payne Food Forest: If you are interested in getting involved with the food forest, help is needed with ongoing watering of the food forest. More dates will be available soon. Sign up at SHAREGreaterLynchburg.org to stay connected: https://sharegreaterlynchburg.org/opportunities/volunteer-rs-payne-food-forest