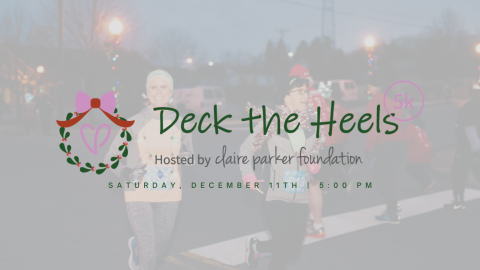 Claire Parker Foundation Deck the Heels 5K on Saturday, December 11
Written by Alyssa Wilson

The Claire Parker Foundation assists families battling pediatric cancer through their abundance of assistance programs and financial support to families during extended hospital stays. This season, the foundation is hosting the Deck the Heels 5K to help raise funds for these programs.
The foundation provides support to families through a multitude of box programs: one at initial diagnosis, a birthday box, creative therapy, end of treatment, and unfortunately in some cases, end of life.
There are around 300 participants signed up to run or walk the 5K that is taking place this Saturday, December 11. People who are interested can continue to register for the race up to the day of the race or in-person on race day.
Starting at 3 p.m., there will be a Christmas vendor fair where anyone can come shop on Main St., Altavista where barbeque will also be for sale. At 5 p.m., the race will begin.
Karly Rouillier, Claire Parker Foundation Director of Communications said, "The most fun part of the race is that people come decked out in Christmas attire, light up necklaces, and hats! It is a super fun night and it is all for a good cause!"
The Deck the Heels 5K is going to be a day of holiday for fun for everyone to enjoy. Anyone can use the link here to sign up for the race and all are welcome at the Christmas vendor fair.