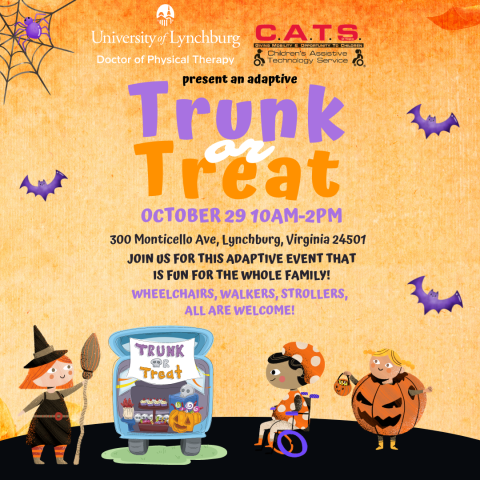 Written by Alyssa Wilson~ University of Lynchburg Bonner Intern 
In 2014, a woman named Cathie Cummins, a retired therapist, saw a need in her community for free assistive technology like wheelchairs, for disabled children and their families. 
Cummins started a nonprofit organization out of her garage in that year that is now known as Children's Assistive Technology Service (C.A.T.S.) and has served many children and families since. 
C.A.T.S. is based out of Moneta, VA but serves its surrounding areas of Roanoke and Lynchburg as well. The families that receive help from the organization are often referred by physical therapists and local families share their equipment with one another after it is no longer needed. 
Operations Manager, John Naples says, "What we do is fill in the gaps when none of that happens. When they can't get it through insurance, or the wait is too long or it's just cost prohibitive." 
In addition to the work that C.A.T.S. does in helping families access technology, they also hold events for the children and families that they serve. Two of their upcoming events include Adaptive Trunk or Treat and Hallowheels. 
Cassidy Chambers and Patricia Garrett are co-presidents of Wheels on the James and are currently students in the Doctor of Physical Therapy (DPT) program at the University of Lynchburg, and the Adaptive Trunk or Treat was their own brainchild. 
Due to their work with Wheels on the James, an organization that fits children with disabilities to adaptive tricycles, they noticed the need to have an event for disabled children that would allow them to have all the fun of a traditional trick or treat. 
"We just want a place that's going to be safe for them, and where the focus is on how we see them for who they are and not for what their disability is," says Chambers.
Students from the DPT program will be volunteering at the event in many different capacities. From helping to make costumes to facilitating inclusive games. 
This is the first annual program but both C.A.T.S. and the DPT program hope to make it an annual event. 
Anyone who wants to participate is welcome to come and the event will be held in the parking lot of the DPT/PA building at 300 Monticello Ave., Lynchburg, VA 24501. 
The Adaptive Trunk or Treat is also the kickoff event for C.A.T.S. sixth annual Hallowheels. 
Hallowheels has been the main fundraising event for C.A.T.S. since the event was first held. 
For the event, children who dress up can enter in a competition online where people can then go and vote on their favorite Halloween costume(s). 
Each vote costs $1 and in the past the event has raised between $18,000 and $20,000 for the organization. 
This link to vote on costumes is going live on October 29 and will remain open to voting until November 4th!