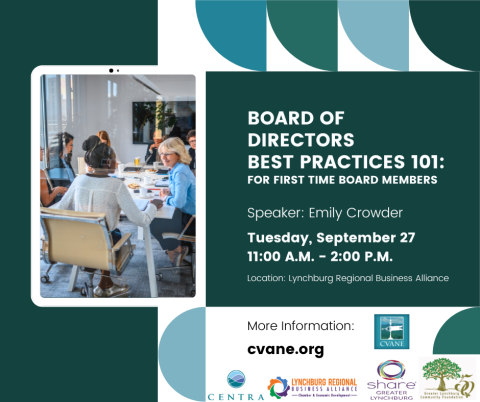 Tuesday, September 27
11am-2pm
Lynchburg Regional Business Alliance

If you're interested in joining a nonprofit or civic board of directors for the first time, join us for this three-hour professional development training. Seasoned local nonprofit practitioner and instructor, Emily Crowder, will break down the fundamentals and expectations of nonprofit board leadership and share best practices. The training will conclude with five local nonprofit leaders pitching why you should interview to serve on their boards. A boxed lunch will be provided.

About the Instructor:
Emily Crowder is the Executive Director of Global Camps Africa (GCA), a Lynchburg-based non-profit organization that equips children affected by HIV/AIDS in South Africa with the tools they need to live healthy productive lives and make positive impacts on their communities. In her role as Executive Director at GCA, she is responsible for organizational and Board development, operational management, and the planning and coordination of fundraising and communications activities.

She has served as a strategic planning consultant for various non-profit organizations, including the Downtown Lynchburg Association, Academy Center of the Arts, and Jefferson Center. Emily volunteers on a number of Boards of Directors, including as Past President of the Board of Camp Kum-Ba-Yah in Lynchburg.